Discover more from Human Rights in China
HRIC Weekly Brief: Stay informed on the latest human rights developments in China, supporting activists and fostering global understanding.
Over 1,000 subscribers
HRIC Attends Harvard Screening of "One Child Nation" Documentary
On October 18th, Harvard University's Chinese Students Association held a screening of the award-winning documentary "One Child Nation" by famous Chinese director Wang Nanfu. Zhou Fengsuo, Executive Director of Human Rights in China, was invited to participate in the discussion and introduce HRIC's work and the HRIC Internship Program, which students from Harvard University have participated in.
This was the first time in many years that Harvard Chinese Students Association held an event related to the human rights situation in China. More than 30 people attended the event, and the post-screening discussion was lively. Director Wang Nanfu and Lu Miaoqing, a human rights lawyer who has represented cases related to the One Child Policy, spoke to the student audience from each of their perspectives and had an in-depth discussion. The film reveals the various tragedies caused by the One Child Policy through direct interviews, and focuses on the abandonment of female babies and abduction and trafficking of these children that was organized by the Chinese government.
Two Harvard students who attended the event revealed that they themselves were abandoned babies who had been adopted. They shared that this was the first time they understood the broader context of their own experiences. They were relieved to be able to share their experiences as abandoned babies for adoption in an environment with a sympathetic and understanding audience, and their participation allowed more people to understand the human tragedy caused by the inhumane One Child Policy.
So many students wished to participate in the discussion, they had to line up for a chance to speak. They spoke about the impact of this policy on China today, and how to prevent similar tragedies from happening again. Many students also expressed their wish for more similar events to be held in the future.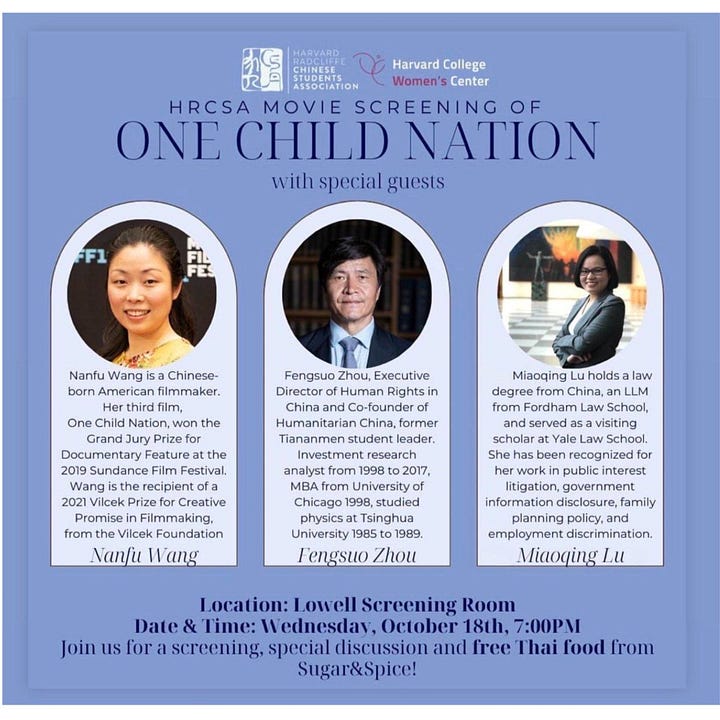 ---