Discover more from Human Rights in China
HRIC Weekly Brief: Stay informed on the latest human rights developments in China, supporting activists and fostering global understanding.
Over 1,000 subscribers
Li Keqiang's Death Sparks National Wave of Mourning in China
The death of former Premier Li Keqiang early Friday morning has sent shockwaves across China, with massive gatherings to commemorate Li spreading from his hometown Hefei to other cities across the nation. As political protests are almost impossible in China, public mourning is a time-tested method of public protest, hearkening back to 1976 and 1989, when people gathered at Tiananmen Square. Over the weekend, thousands took to the streets to mourn and express their nostalgia over what many see as a lost era of greater freedom and economic possibility. Li died in Shanghai, supposedly from a heart attack, less than one year after leaving office. He was 68 years old. Once a top contender as a successor of Hu Jintao, he eventually lost out on the position to Xi Jinping. His death raised many questions, considering that the average life expectancy for former CCP top brass is about 90 years.
Outside Li's former residence, and on campuses and in cities across the country, thousands lined up to leave flowers and notes. Online, an outpouring of grief was abruptly censored as netizens' memories of Li contrasted poorly with their feelings on Xi Jinping, who has reduced citizens' freedoms and mismanaged the economy. The nature of Li's death also led many to express their doubts about the official narrative.
Photos from @ZhouFengSuo and @whyyoutouzhele on Twitter/X.
The scale and intensity of this public mourning came as a surprise to many, and recalls the protests at Tiananmen, where mourning over a beloved public figure spurred resistance against the CCP's totalitarian regime. While initially the public's grief was tolerated by the authorities, police officers have begun clearing away evidence of mourning. Even merely purchasing carnations, a popular mourning flower, must be reported to the police. Evidence suggests that the authorities are growing nervous, and are seeking to shut down the public grieving before it has a chance to grow into something more. On October 30th, three people were detained at a memorial event in Hunan Province.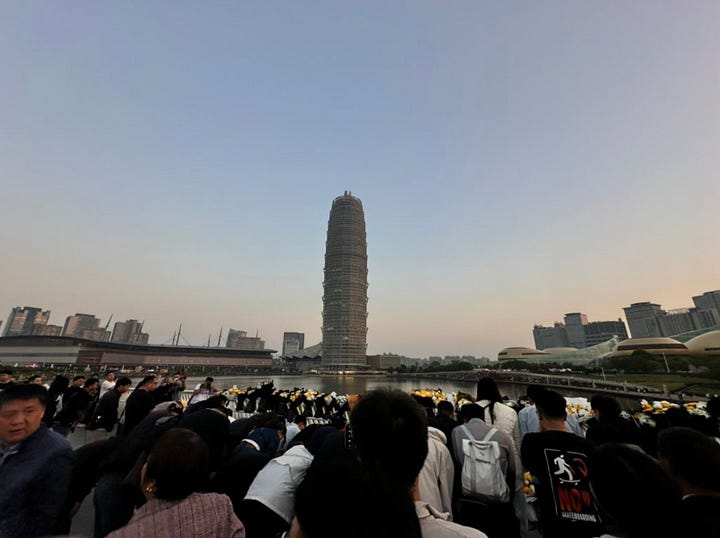 Notably, the mourning has not stayed within the confines of certain areas. In addition to huge piles of flowers, individual bouquets, notes, and poems have been spontaneously left on riverbanks, under statues, at parks, and at other meaningful locations.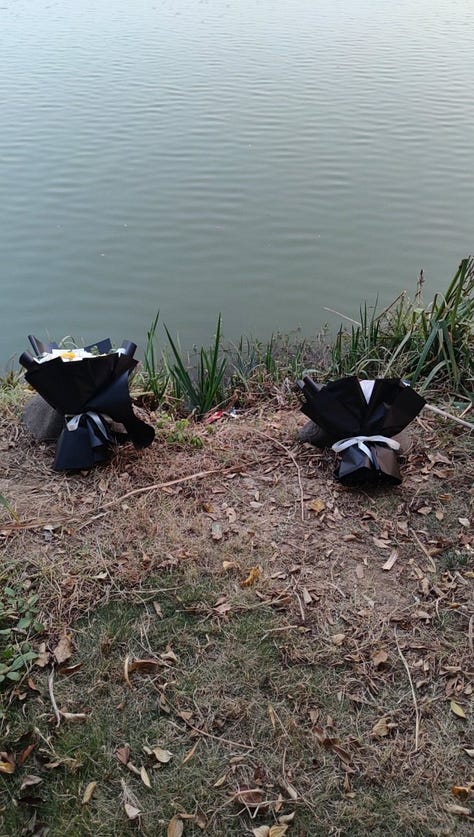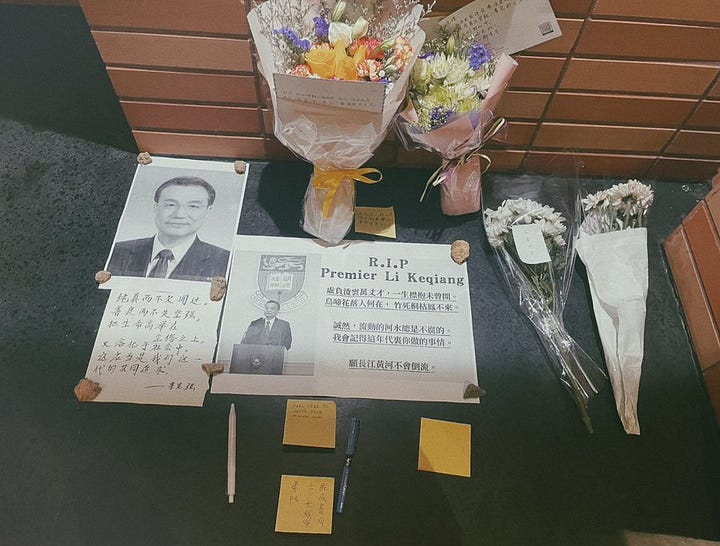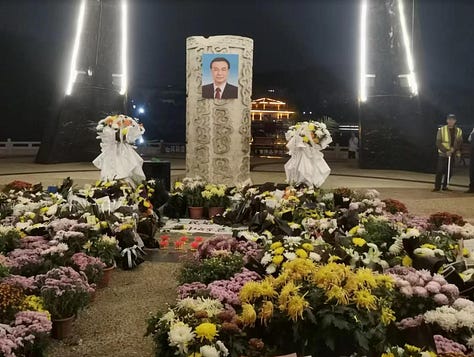 ---